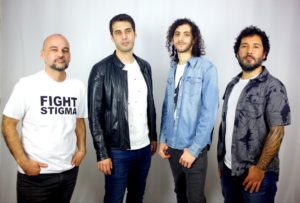 UFA
Género: ElectroPop / Rock
Origen: Montevideo, Uruguay
Bio:
UFA nace a principios de 2010 como un proyecto de Esteban García Lorenzo (voz y guitarra).
En 2013 da un paso importante con la incorporación del ex bajista de Chala Madre, Marcos Keldjián. Ese mismo año graba "Divina", su primer sencillo producido y masterizado por Álvaro
Angeloro.
En 2016 la banda adquiere su integración actual con la incorporación de Julio Crisolito (batería)
y Santiago Quintela (guitarra coros y pistas). Santiago también fue productor de la mayoría de
los temas grabados. A fines de 2016 UFA hace su primera presentación en vivo, y comienza a
grabar su disco de estudio.
Durante 2017 UFA realizó distintas presentaciones y concluyó la grabación de su disco
"Salvame", bajo el sello Montevideo Music Group.
https://www.instagram.com/ufamusica/?hl=es
https://www.instagram.com/estebangarcialorenzo/?hl=es
https://www.facebook.com/ufamusica/?ref=bookmarks
UFA
Genre: ElectroPop / Rock
Origin: Montevideo, Uruguay
Bio:
UFA was born in early 2010 as a project by Esteban García Lorenzo (voice and guitar).
In 2013 he took an important step with the incorporation of former Chala Madre ex bassist, Marcos Keldján. That same year he recorded "Divina", his first single produced and mastered by Álvaro
Angeloro
In 2016 the band acquires its current integration with the incorporation of Julio Crisolito (drums)
and Santiago Quintela (guitar choruses and tracks). Santiago was also the producer of the majority of the recorded themes. At the end of 2016 UFA makes its first live performance, and begins
record its studio record.
During 2017 UFA made different presentations and concluded the recording of their album
"Salvame", under the Montevideo Music Group label.